Description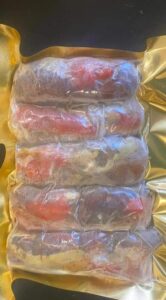 Crab Cart Wings crab cart wings
Lightly salted wings
we also have salted wings too
5 in a pack
What are crab cart wings ?
These are the red Juicy, meaty bits in the top part of a hen crabs these are scooped out carefully and put on a bed of salt.
How do i fish with cart wings ?
when you take a wing out of the pack  cut into strips with scissors or used  whole  ,then use elastic cotton to secure it. for best results use semi frozen ,or frozen .
What fishing rig should i use for crab cart ?
Simple answer is depends what fish you are targetting .
Alternatively use a size 2 to 6/0 hooks can be used , for bigger species of fish like Cod,Bass and Smoothounds a 3/0 or 4/0 hook is good get a strong pattern hook similar to Varivas big mouth extra
What fish will they catch catch ?
Cart used to be just  to catch Cod, but now people have realised lots of other species  caught , including, Cod and ,Bass,Bream Flounders ,Plaice ,Brill,Smoothounds, and Bullhuss too.
Only logged in customers who have purchased this product may leave a review.